Another Bright Idea has partnered with Karman Interactive to create a state of the art new sales tool called the Furniture Augmented Reality Catalogue. Using a Smartphone or Tablet Sales teams will be able to take every product in the catalogue and demonstrate them to clients. This revolutionary way of engaging customers and offering maximum flexibility to the sales rep.
Using Augmented Reality the Sales person can place a brochure on a desk and then have the product come alive while looking at if via the Furniture A.R.C. Sales App.
Your sales people can use the app to demonstrate to your clients like no time before:
Manipulate the product onscreen
"RealScale" the object – giving it full life size dimensions on the screen overlaid in the actual work space
Change Fabric
Change Colour
Change option and configuration
Interact using hotspots to see functionality
Link to brochures and other documentation directly in the App
Take a photo of the product in an actual workspace
Generate a Proposal based upon the selected configuration and email to client

* ABI can integrate with your web based ordering systems directly from with F.A.R.C.
We are very excited to bring this innovative selling tool to the market and believe that it has many application beyond furniture sales.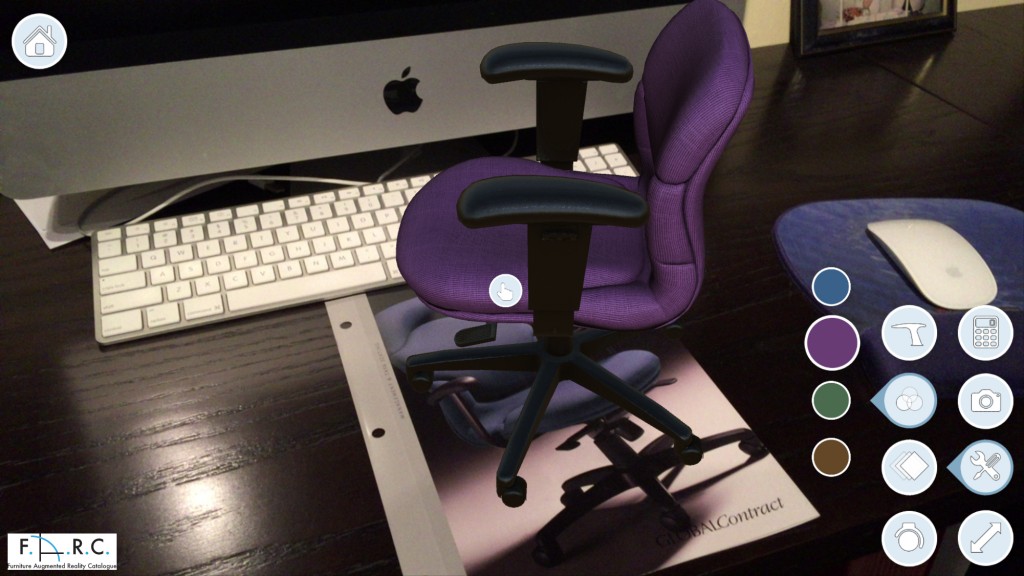 Realscale it! See exactly what a potential chair will look like within your space.  More than just an image you can spin it and interact with the product.